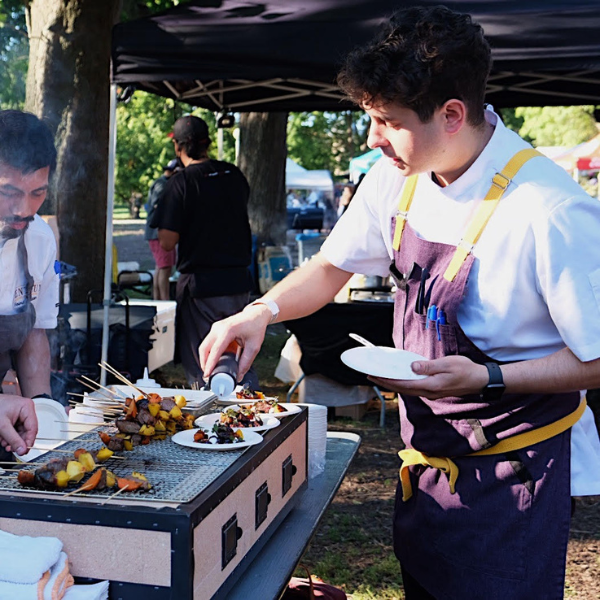 Contact Info
Donald Young, Owner/Chef
4848 N Sheridan Rd
Chicago, IL 60622

Bio
Where modern meets classical and whimsical meets quaint.
This is Duck Sel by Michelin starred chef Donald Young. Michelin starred dining to your own
comfort. Eat the way you want to eat.
Duck Sel began as a small pop up in 2016 from chef Donald Young, originally named Salted Duck that came from his obsession with cooking and eating ducks (especially the cute ones). Branching off his Instagram handle (@DonaldDuckConfit), the name came from a cross of a duck and a molecule chain of Na and Cl, or commonly known as salt. The perfect pair in many ways to tie what Duck Sel is today, modern meets classical and Donald's love for duck. Donald's experience comes from many years of classical French training from chef Roland Liccioni of Les Nomades & in France with chef Simon Scott of Bistrot de Saveurs and self taught avant-garde techniques from google. This experience helped create a whimsical 12 course tasting menu that earned a Michelin star at the age of 28, being one of the youngest chefs in America to receive the accolade. Donald's culinary skill set combines many techniques that are powerful in flavors and aggressive plating to delicate and simple. Through growing from past experiences and redefining himself, Salted Duck transitioned into Duck Sel. Michelin quality cuisine and service that can be done anywhere, whether in a reserved private space, your office, or the comfort of your own home, Duck Sel is ready to curate a special culinary experience for you.
This is Duck Sel.
---