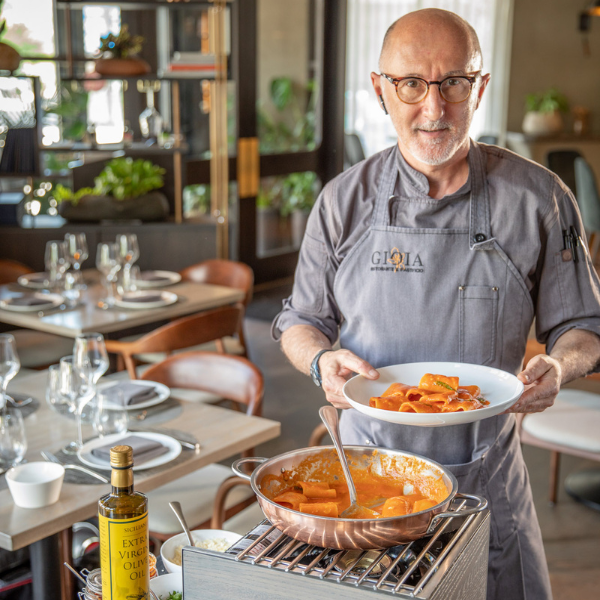 Contact Info
Federico Comacchio, Chef & Partner
1133 W Randolph St
Chicago, IL 60607

Bio
Chef and Partner Federico Comacchio's culinary journey spans more than 30 years through Michelin-starred kitchens. Born in Lodi, Italy, Comacchio was inspired by the fresh, locally harvested ingredients that found their way onto his family's dinner table. Comacchio first gained foundational experience at the Michelin starred La Quinta Ristorante under Chef Sergio Granata. After which he took his adventure to Milan, cooking alongside Chef Claudio Sadler at the Sadler Ristorante, also famed for its Michelin star status. During this period, Comacchio honed his craftsmanship of Italian dishes both familiar and new, and his fascination with regional cooking blossomed.
Ready for change, Comacchio traversed the Atlantic to San Juan, Puerto Rico in 1991, where he served as a sous chef with the Bice Group. After a visit to Chicago in 2000, he set his sights on a move as he joined the Stefani Restaurant Group to serve as the executive chef of 437 Rush. In 2012 he became the executive chef at the revered Coco Pazzo restaurant showcasing Tuscany's refined, colorful cuisine where he stayed for seven years.
In 2021, Comacchio stepped into his own restaurant and kitchen to open Gioia Ristorante + Pastificio, located Chicago's West Loop neighborhood. At Gioia, meaning "joy" in Italian, he is thrilled to express his interpretation of regional Italian cooking with the purity of ingredients that ignited his journey more than three decades ago.
---