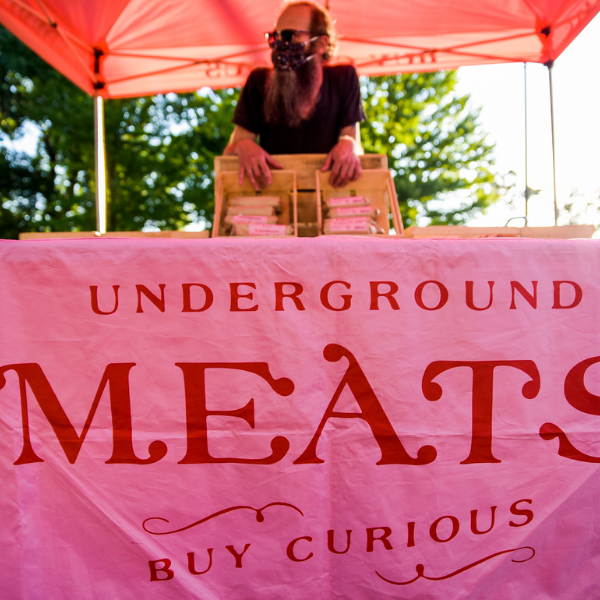 Contact Info
Joshua Barnhart
1133 East Wilson St
Madison, WI 53703
309-242-0128
Bio
Underground Meats consists of a small group of whole-animal butchers and charcuterie-makers that produce small-batch and hand-tied salami, smoked and cured meats, as well as whole-muscle salumi. They are located in Madison, Wisconsin and were established in 2009.
Every aspect of production is done by Underground Meats' team of nine people: butchery, production, post-production and quality control, packaging, sales, and shipping. Underground Meats works only with small Wisconsin farms that share their commitment to responsible food. They are proud to use heritage breeds of pigs that include Tamworth, Berkshire, Black Mulefoot, Red Wattle and Mangalitsa.
Their goal is to produce the highest quality product possible while using the best resources. Underground Meats supports small farms and farmers that raise animals in a manner that is in alignment with their standards for quality of life and environmental impact. For example, they have made arrangements with several of their goat suppliers to raise male goats to be included in their salami production. Often, male goats that are born on dairy farms have no end utility and are slaughtered and discarded as waste. Underground Meats has taken this resource in and included it in the production of one of their most popular items: Underground Meats Goat Salami.
WHOLESALING
Please email, text, or call to place a wholesale order.
---
Specialties
salami, smoked and cured meats
---
Participating Markets
Lincoln Park
GCM Delivered
GCM Curbside
---
Nutrition Assistance Programs
SNAP
---