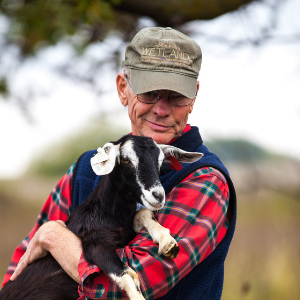 Contact Info
Harry Carr
1693E 3800 N Rd
Stelle, IL 60919
815 953-5682
Bio
Mint Creek was founded in 1992 by Harry and Gwen Carr and their children, Jonathan and Raya, as well as a tight-knit staff, which has since grown to include roughly eight extremely dedicated friends and colleagues.
After starting to raise sheep organically over 20 years ago, they have since added goats, cows, pigs, chickens, turkeys, and honey-bees. "We have worked on mimicking the way buffalo would graze prairie with our pasture management techniques–a process sometimes called mob grazing," Harry explains.
Always striving for a challenge and a dream, Harry continues to be the fearless leader of the farm. Harry is a believer in the power of perennial pasture to counteract climate change and add resilience and biodiversity to our region. Gwen, an owner, caretaker, and advisor to the farm, also teaches elementary Montessori school. In summer, Gwen cares for hundreds of pasture-raised chickens, and has greatly enjoyed that experience.
The Carr family and farm team strive for maximum species diversity in both animals and pasture plants. "We are fervent believers in 100% grass-fed animal nutrition." Stewarding a healthy farm ecosystem, one that allows for natural areas such as songbird habitat, and native prairie plants, has always been a part of the Mint Creek farming philosophy, and many species find a safe haven there (including snakes, which can be a sign of ecosystem health and fertility)!
WHOLESALING
Please email to place a wholesale order.
---
Specialties
lamb, goat, pork, duck, eggs, beef, honey, breakfast sandwiches
---
Participating Markets
Lincoln Park
---
Certifications
USDA Certified Organic
---
Nutrition Assistance Programs
SFMNP
SNAP
WIC
---