Posted Apr 14, 2023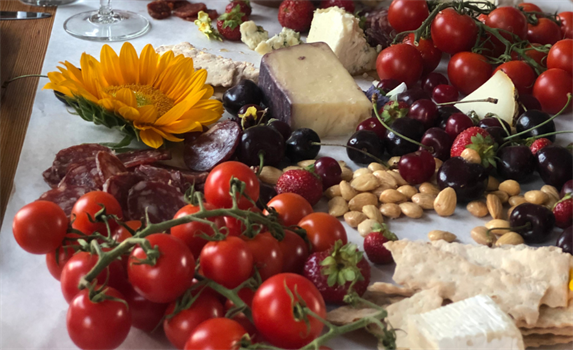 A new outdoor season is already underway, and you may have noticed a few new faces and offerings at the market. We're thrilled to welcome four new farmers and food producers to Green City Market this season.
Kicking off our series of new vendor spotlights is Flock & Forage, "a healthy, one stop shop for all your charcuterie needs."
Flock & Forage was founded this year by Samantha Demichael, a private Chef who some market shoppers may recognize for her longtime work with Mick Klug Farm at Green City Market.
Samantha shared, "I have worked for Mick Klug Farms for 9 summers and have learned the importance of knowing where your food comes from from the amazing Green City Market community. I started a farm-to-table Supper Club a few years ago and started making grazing boxes for people to purchase online and I feel that these would be a perfect addition to GCM for many reasons."
It was during her time working at GCM that the idea for Flock & Forage was born. Samantha shared that during her time working at Green City Market, she was often craving healthy grab and go options. With this in mind, Samantha created Flock & Forage which will offer charcuterie cones, boxes and other healthy grab and go options. All ingredients used for Flock & Forage offerings will be sourced directly from Green City Market vendors.
Our mission at Green City Market is to secure the future of food by deepening support for sustainable farmers, educating our community, and expanding access to locally-grown food. When asked how Flock & Forage would be a good fit given this mission, Samantha said, "My business would be a great addition to GCM because all ingredients are sourced from farmers at [GCM] daily. I'm offering direct farmer support, as well as educating consumers about the many local sources that I use."
Not only does Flock & Forage help support our local farmers and teach folks about where their prepared food is coming from, but it's also a great addition to the market because they "will be offering a healthy snack alternative to customers."
Wondering what types of products will be offered at Flock & Forage? Samantha shared that they will have "artisan breads, honey, cheese, cured meats, fresh fruit & vegetables, dried fruit, jams, pickles, salads, homemade chips, and more."
Customers can customize their own charcuterie cones and boxes. They can also preorder larger charcuterie boards. This is perfect for folks who are entertaining, and the perfect thing to bring to your next party.
Flock & Forage is also offering homemade fruit leather and other delicious grab and go options at the markets.
They're at GCM Lincoln Park weekly on Saturdays now through November. Be sure to stop by the market and check out all the new products that Flock & Forage has to offer.