Posted Mar 03, 2023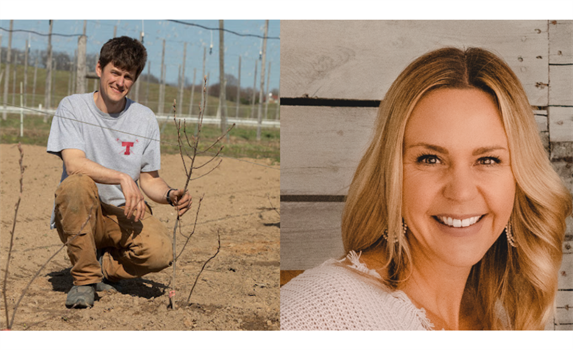 Green City Market's Sustainable Supper Series is back for its second year beginning on March 21 at Michelin-recognized restaurant, Eden.
This event series, which is part of our Edible Education program, works to instill a lifelong commitment to sustainability. In addition to an evening of local food sourced from Green City Market vendors at top Chicago restaurants, all Sustainable Suppers include a live panel discussion.
Last year's Sustainable Supper Series focused on topics like "what is local food, really?" and the relationships between farmers and restaurants. This year, we are kicking off the series with a panel discussion about the important impact that farmers' markets have on the local food system.
This panel will be moderated by GCM Executive Director Mandy Moody. The panelists include Abby Schilling of Mick Klug Farm and Marc Luff of Flatwater Farms.
Keep reading to learn more about our panelists.
---
Abby Schilling
Farmer/Owner, Mick Klug Farm, Member of the GCM Board of Directors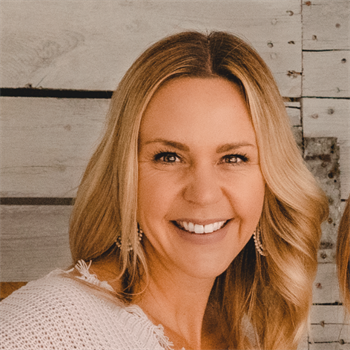 Before returning to working on her family farm in 2010, Abby (Klug) Schilling received her BA in Communication from Michigan State University, worked in sales in Chicago, earned her Masters degree in Social Work from Wayne State University in Detroit, and worked as a school social worker in Saint Joseph Michigan.
After meeting her fiancé who also worked for his family's farm, Abby decided to return to her father's farm where she had worked and sold at farmers markets since she was a child. Her father, Mick Klug, bought his farm from his parents in 1974 and started attending City of Chicago Farmers Markets.
He then started selling to restaurants and became a vendor at the Green City Market. When Abby came on board full-time, her father, who much prefers the field, gladly handed over the "paperwork" and she took over much of the administrative, marketing, and business aspects of the 120-acre farm. In 2018, Abby and her husband, Mark, Mark's brother, Ben, and sister-in-law, Bae, joined the team, and now own and operate both Mick Klug Farm and Schilling Family Farms together.
Abby joined the GCM Board of Directors to help facilitate communication between vendors and the Board, believing it important to consider farmers' opinions and suggestions in order for the market to continue to succeed. She currently serves on the Board's Executive Committee as the Secretary.
Marc Luff
Farmer, Flatwater Farms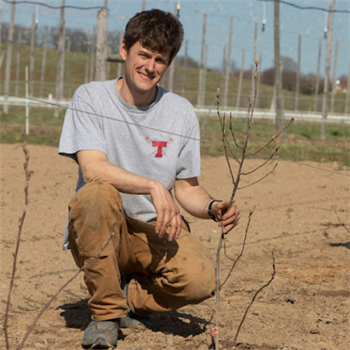 Marc Luff has been the farmer at Flatwater Farms since November of 2020. In 2007, when Marc graduated from Harvard with a degree in English Literature, he decided to work on a farm while he looked for other employment. Growing up in a small town in Indiana, though, and with farming in his extended family, his childhood hope to be a farmer ended up circling back after his four years in the city.
Farming has been his profession ever since. He was drawn to the outdoor lifestyle, the need to invent and innovate, and the challenge to produce nutritious food for the customer that not only enhanced the environment, but also provided a stable living for the farmer. He has found inspiration and meaning in his career in the pursuit of farming methods that build soil, respect animals, and produce nutritious food.
Before finding a home with Flatwater Farms, Marc and his wife Claire ran a CSA in Cincinnati for nearly 8 years. When their leased land was developed for housing, they moved to California where Marc managed a ranch raising primarily sheep and grain. Marc and Claire wanted to be closer to home, so they chose to move east again. Marc was drawn to the community, vision, and place of Flatwater Farms and has been there ever since.
---
Interested in hearing from Marc and Abby? Be sure to grab your tickets today.
In addition to this panel, tickets include a specialty cocktail (or mocktail), a three-course dinner, and gratuity for service staff.
Looking to elevate your experience? VIP tickets are available and include wine pairings, private dining rooms, and the option to arrive as early as 5 p.m. for an exclusive tour of Eden's onsite greenhouse where they grow many of the ingredients that they showcase on their menu.
Proceeds from this series will go to Green City Market to support local farmers, educate our community, and expand food access around Chicago.