Posted Aug 17, 2023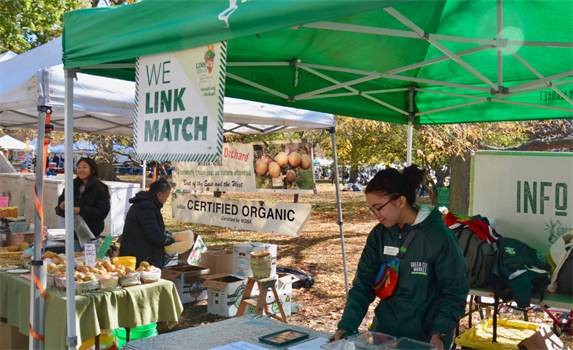 We're thrilled to announce that Green City Market has been awarded a $100,000 grant from Food:Land:Opportunity, a collaboration between Kinship Foundation and The Chicago Community Trust funded through the Searle Funds at The Chicago Community Trust to increase the visibility of the local food sector in Chicago while improving the efficiency of the local food businesses run by Green City Market's farmers and food producers.
While most know Green City Market for our nationally-renowned farmers markets in Chicago, our markets are just one of nine programs centered around lifting up local growers and securing the sustainable future of food.
"Green City Market is growing. With a $1.6M budget this year and continued growth projected in the years to come, steadfast support from the Food:Land:Opportunity initiative is instrumental to lifting up the local food sector," shared Mandy Moody, Executive Director of Green City Market.
"We can totally see more foot traffic at the market and way more interest since last year and the year before," shares Alex Finn of Finn's Ranch in Buchanan, Michigan. "It's paying off: the newsletters, the social media, turns into customer engagement in person."
This is the third consecutive year that GCM has been awarded Food:Land:Opportunity funding and GCM is pleased to be able to continue its work of deepening support for 50+ farmers' and food producers.
This grant allows GCM to strengthen supply-side business practices for local food producers through strategic marketing and media relations.
"The business of farming requires expertise—such as strategic marketing—that goes well beyond core knowledge of growing and producing food," said Lenore Beyer, Director of Conservation Initiatives at Kinship Foundation. "One of the fundamental strategies Food:Land:Opportunity pursues in building a robust local foodshed for Chicago is enhancing these supply-side skills, which requires just the sort of long-term investment that Green City Market's programming exemplifies."
Through GCM's continued work, this grant will help ensure Green City Market's vision of a future where sustainable farmers are thriving and a future where everyone — in the Chicago community and across the nation — knows who grows their food, how it's grown, and why this knowledge matters. It will also allow GCM to continue their efforts to make certain that local, sustainably-grown food is available for all in generations to come, regardless of zip code or income level.
Learn more about Green City Market's 501(c)(3) nonprofit mission deepening support for sustainable farmers, educating our community, and expanding access to locally-grown food, and how you can be a part of growing a more local, sustainable food system.