Posted May 24, 2023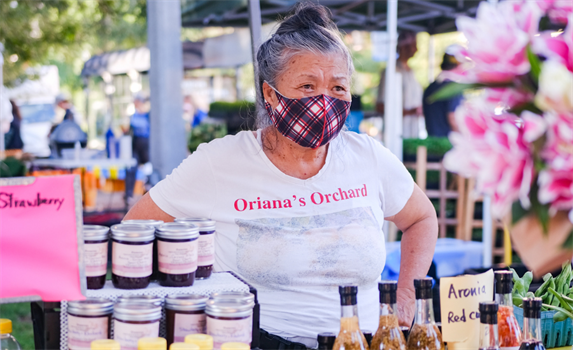 May is always an exciting month at Green City Market as it's the month where our outdoor markets are back in full swing and we get to start reconnecting with our farmers' market community. In addition to the start of our market season, May is also Asian American and Pacific Islander (AAPI) Heritage Month.
This month is "a celebration of Asians and Pacific Islanders in the United States," and we want to take the time to celebrate five incredible small businesses that are a part of our market and are run by members of the AAPI community.
Verzênay Patisserie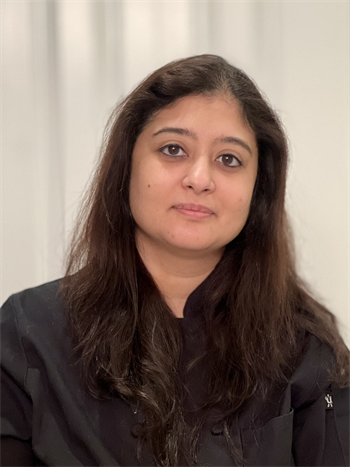 Verzênay is a delightful patisserie based in Chicago, IL.
The team at Verzênay, shared the following about their business.
"Verzênay Chicago was born when Arshiya Farheen moved to Paris to learn and excel in the art of French Culinary. After graduating from the Ferrandi School of Culinary Arts, Paris, and working over there at the Delmontel boulangerie-patisserie and hotel Le Meurice, Verzênay became Arshiya's means to share the French passion for high quality bread, pastries and desserts.
Arshiya and her husband, Aqeel, have run this small business since 2014. Verzenay is a minority women owned & operated bakery/cafe. Verzenay's mission falls under two categories:
Create chef crafted food that is best in taste and quality using clean ingredients & locally sourced from farms where possible.
Support women and help advance their skills and economic empowerment.
In addition to their booth at Green City Market Lincoln Park on Wednesdays and Saturdays, Verzênay also has a beautiful storefront on Lincoln Ave.
Wondering what to try out from this bakery? We recommend trying a traditional baguette or a raspberry-rose croissant, but you can't go wrong with anything they have!
Oriana's Orchard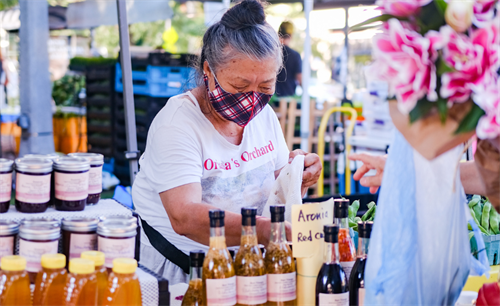 Next up in our list of amazing businesses to celebrate this month (and every month!) is Oriana's Orchard.
Oriana's Orchard is a USDA Certified Organic farm in Winslow, Illinois run by Oriana Kruszewski. She is known for having some of the most unique (and delicious) products at the market like preserves, paw paw, herbs, kimchi, tea, but is probably most well known for her incredible variety of Asian Pears.
When asked to provide a short bio of for her business, Oriana shared:
"Oriana Kruszewski began growing Asian pears in her backyard more than 30 years ago because she found store-bought varieties bland and too expensive. In 1996, she bought a 40-acre plot of land in northwestern Illinois where she now grows dozens of varieties of pears from China, Japan, and Korea, as well as hybrids developed in the United States and Europe.
A few years ago, she added black currant bushes and Chinese medicinal greens for culinary purposes. Oriana also cold presses green juices from her own fresh organic produce like watercress in the spring and bitter melon in summer.
Oriana's plants are grown without pesticides or herbicides. Her farm has been USDA Organic certified by Midwest Organic Services Association since 2011."
In honor of AAPI Heritage Month, GCM featured Oriana's Orchards in our weekly market tasting. Customers got to taste her popular fresh pears and compare them with her tasty dried pears.
She is also one of our few vendors that sells the obscure, highly seasonal pawpaws. Wondering what pawpaws are? Check out our seasonal spotlight to learn more.
Oriana's Orchard can be found at Green City Market Lincoln Park on Saturdays this season.
Gai Ghee Butter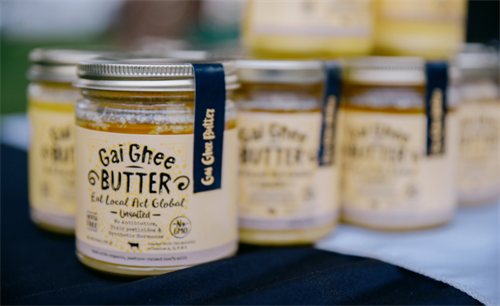 Our third AAPI vendor spotlight is Gai Ghee Butter, which is owned and operated by Murassa Qazi.
After a short hiatus during the 2022 market season, we are so excited to announce that Gai Ghee Butter has returned to the Green City Market community and will be at Green City Market on Lincoln Park on Saturdays this season.
Murassa provided the following bio for her business.
"Gai Ghee Butter is made from a traditional ghee recipe that has the authentic flavor and texture of real ghee. Instead of using store-bought butter, Gai Ghee uses one simple ingredient: organic milk from Organic Valley (this pasture-raised milk comes from cows who live like cows should — with plenty of time outside, access to organic grass, and, of course, a lot of sunshine).
At Gai Ghee, they churn their own butter and then heat it to make ghee. They produce small batches to regulate quality and never add any unnatural ingredients, giving Gai Ghee a superior nutrition profile in comparison to other ghees."
Gai Ghee Butter is one of just a few vendors offering organic dairy products at our market and the only vendor offering ghee so we highly recommend picking some up.
Noble Fat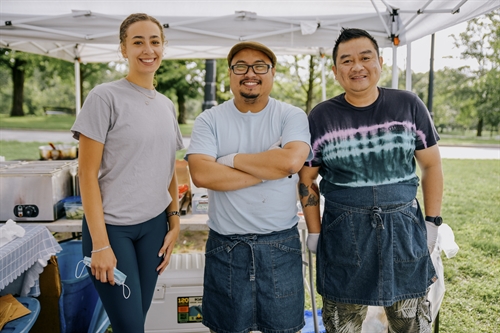 Next up in our spotlights is Noble Fat, a fan-favorite prepared food vendor offering flavorful bao, lumpia, and meat skewers.
"Noble Fat Company was born with the firm belief that food is one of the best ways to connect with people. And in a city as diverse as Chicago, connection is ever more essential," shared the Noble Fat team. "As a company, Noble Fat is dedicated to ingredients that are mindfully sourced from local, sustainable farms, as they showcase their absorptive flavor on Asian and European dishes — highlighting not only the seasons of the Midwest, but also the character of this great city."
They are one of our most popular and unique prepared food vendors and often have a long line for their delicious offerings.
Noble Fat joins us each week at Green City Market Lincoln Park on Saturdays. In addition to the markets, Noble Fat is also known to join us at our signature food festival, Chef BBQ.
This is a perfect lunch stop during your market shop so be sure to stop by this Saturday and say hi to the team!
Phoenix Bean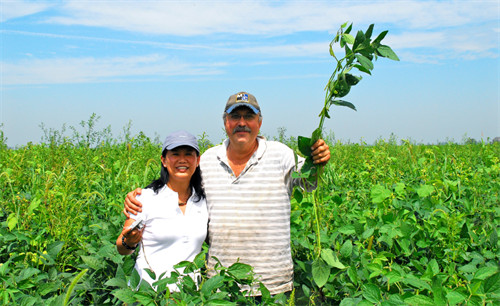 Our final vendor that we are celebrating this month (and every month!) is Phoenix Bean Tofu.
Phoenix Bean is owned and operated by Jenny Yang.
The team at Phoenix Bean shared the following about the business.
"In 2007, Jenny Yang took ownership of Phoenix Bean LLC and quickly recognized the need to expand the availability of fresh tofu beyond the Asian community to include mainstream customers looking for healthy and tasty plant protein.
All Phoenix Bean products are freshly made from non-GMO, Illinois-grown soybeans raised with no chemicals, pesticides, or fungicides. Jenny and her Phoenix Bean team produce naturally delicious tofu daily that are cholesterol-free, gluten-free, and contain no transfats, preservatives, or additives. Jenny is committed to food sustainability by sourcing local soybeans, minimizing waste during processing, and using energy- and water-efficient methods.
By combining traditional handcrafting techniques with modern procedures, our tofu is consistently high in quality and nutrition-rich. Phoenix Bean's recent expansion in Edgewater will help us provide Chicagoans with the tastiest, freshest tofu products available anywhere for years to come!"
The team also shared, "Jenny is highly committed to sustainability and zero waste. In the tofu making process, once we grind up the soybeans, we separate the mash, or okara from the soy milk. The soy milk is used to make tofu and the okara, which is still high in protein, goes back to farmers for animal feed and fertilizer."
In addition to selling their tofu, Phoenix Bean also offers unique and tasty tofu dips and are extremely well known for their tofu salads which you can often find GCM market staff snacking on during the day.
The Phoenix Bean team shared, "We currently make 24 different products from soybeans. Tofu dip is one of our newer items and we are always looking [to develop] more tofu products."
Last week, the kiddos at Club Sprouts got to taste the tofu dip with market veggies and it was a big hit. Phoenix Bean can be found at GCM Lincoln Park on Wednesdays and Saturdays this season. Be sure to check them out next time you're at the market.
---
All of these incredible businesses run by members of the AAPI community play an integral part in making Green City Market the community that it is, and we are so grateful to have them at our market.
Be sure to stop by the market this Saturday to celebrate the amazing work they do in providing nutritious food to our community.