Posted Nov 03, 2023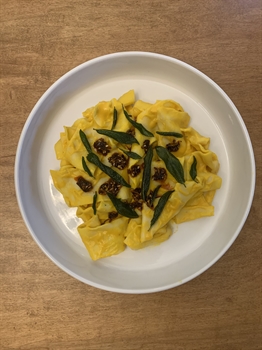 GCM's own Katie Schwartz of @katiefeedsyou has squash season in full effect! This week Katie's bringing you a creamy roasted kabocha squash sauce with fried sage over fresh Daisies pasta. Throw together an Iron Creek Farm kabocha squash, Kankakee Valley Homestead garlic, and sage from Smit's Farm for our favorite new comfort meal.
An extra tip from Katie: the red and orange variety of kabocha squash are ideal to use, as they tend to be sweeter than their gray and green cousins!
Find Katie's recipe below and visit GCM Lincoln Park or West Loop for all your local ingredients.
Plan Your Visit to Green City Market
Ingredients:
1/2 kabocha squash (orange and red variety lean the sweetest)
1 head garlic
1 bunch sage (for topping)
1 package of pasta (Katie uses Daisies pappardelle)
1/2-1 cup cashews (optional, but does make it extra creamy)
1.5-2 cup of non dairy milk (unsweetened) or veggie broth (or combine both)
4 tbsp nutritional yeast, to taste
1-2 tsp white miso paste (optional, but adds extra umami boost!)
1 tbsp dijon mustard
Juice of 1 small lemon, or white vinegar or ACV vinegar (about a couple tsps)
1 tsp onion powder
1/2 tsp paprika
olive oil
salt & pepper, to taste
chili crisp, for topping (optional)
avocado oil for frying sage leaves
Instructions:
Soak 1/2-1 cup cashews in boiling water for at least 15 minutes.

Preheat oven to 400 degrees.

Slice kabocha squash in half and scoop out seeds with a spoon (save & clean seeds if you want to bake them), and slice squash in wedges, about 1-1.5 in width.

Clean off any excess papery layers of garlic leaving the whole bulb intact with a layer of papery skin still on it. Slice off the tip of the garlic bulb, wrap the whole bulb loosely in foil drizzled with a good amount of olive oil, or first brush with olive oil to ensure the entire bulb is covered with oil before wrapping in foil.

Toss squash with a small amount of oil & salt and use hands to ensure all parts of squash are lightly covered with oil-- you don't want it to be overly oiled, so start with a small amount adding a little bit more as needed.

Arrange squash slices along with the wrapped garlic bulb on a baking sheet and roast for about 30 minutes, until squash is fork tender.

Check that the garlic is soft. If not, let roast for an additional 10 minutes. Once garlic is soft, squeeze the bulb until individual cloves pop out. Discard the skin.

Add half of the squash and all roasted garlic cloves into a high-speed blender along with the drained cashews (if using), nutritional yeast, Dijon, miso (if using), onion powder, paprika, lemon juice/vinegar and starting w 1.5 cup of chosen liquid (non-dairy milk and/or broth. Blend until smooth. Try your sauce and add more nutritional yeast, Dijon, onion powder, lemon juice/vinegar, salt, etc. to taste. Add more liquid until desired consistency.

Save other half of roasted squash for another recipe (it freezes really well!) or you can cube in and add to your pasta if you'd like!

Boil pasta as directed. Save a little of pasta liquid if desired to add to your sauce (a good practice for anytime you're make pasta sauce)

Add drained pasta back to the pot and pour about half of the sauce to start. Gently mix and add more sauce as desired. Any leftover sauce can be saved for future recipes (it also freezes very well!)

Top with fried sage and chili crisp
To fry sage:
Add a layer of avocado oil to coat the bottom of a pan on medium heat. Once shimmering, add your individual sage leaves in a single layer. Watch them closely, they should only take about 30 seconds - 1 min (they should still be a nice green color, just darker).

Remove leaves with a slotted spoon and place them on a paper towel lined plate to drain off any excess oil.