Posted Jul 31, 2023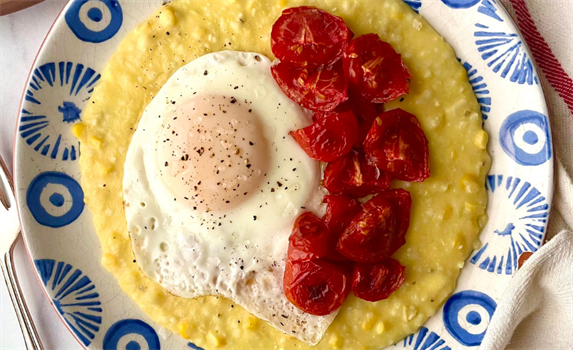 In August, we want to eat nothing but corn and tomatoes — what grows together, goes together, people. We love this recipe from Phoebe Moore that mixes fresh corn with grits, roasted tomatoes, and a generous amount of parm to create a dish that's perfect for breakfast, lunch or dinner.
Ingredients
2 pounds tomatoes (about 4 large) from Tomato Mountain, Froggy Meadow Farm, Iron Creek Farm, Wholesome Harvest, Nichols Farm and Orchard, or Kankakee Valley Homestead

4 cups water

½ teaspoon sea salt, plus more for sprinkling

Kernels from 5 ears fresh sweet corn from Smits Farms, Iron Creek Farm, or Nichols Farm and Orchard
1 cup dry stone-ground grits (not instant) from Severson Organic Grains

½ cup freshly grated Parmesan cheese

1 tablespoon extra-virgin olive oil, plus more for drizzling

1 garlic clove, grated

6 large eggs from Finn's Ranch, Mint Creek Farm, Kajer Greens, Ellis Family Farms, Wholesome Harvest, or Frillman Farms

Freshly ground black pepper
Directions
Preheat the oven to 350°F and line a baking sheet with parchment paper.
Cut the tomatoes into ½-inch wedges, then cut the wedges in half crosswise. Place the tomato chunks on the baking sheet, skin side down. Drizzle with olive oil, sprinkle with salt, and roast until shriveled and lightly browned around the edges, about 40 minutes.
Place 3½ cups of the water and the salt in a medium pot and bring to a boil. Set aside ¾ cup of the corn kernels, then add the remaining kernels to the boiling water. Cook for 3 minutes, or until tender and bright yellow, then use a slotted spoon to transfer the kernels to a blender, leaving as much water behind as you can.
Slowly pour the grits into the boiling water, stirring constantly. Reduce the heat to low, cover, and simmer, stirring often, until the grits are thick and creamy, about 20 minutes.
Meanwhile, blend the boiled corn into a smooth puree. When the grits are thick and creamy, stir the puree into the pot along with the remaining ½ cup water and the reserved raw corn kernels. Cover and cook, stirring often, until the mixture thickens and the grits are tender, about 15 minutes.
Turn off the heat and stir in the Parmesan, olive oil, and garlic. Cover and let stand for 10 minutes while you fry the eggs.
Heat a large nonstick skillet over medium-low heat and brush it with olive oil. Crack in the eggs, cover, and cook until the yolks are just set, 2 to 4 minutes. Work in batches if necessary.
Portion the grits onto plates and top with the fried eggs and roasted tomatoes. Season with salt and pepper to taste.