Posted Jul 26, 2023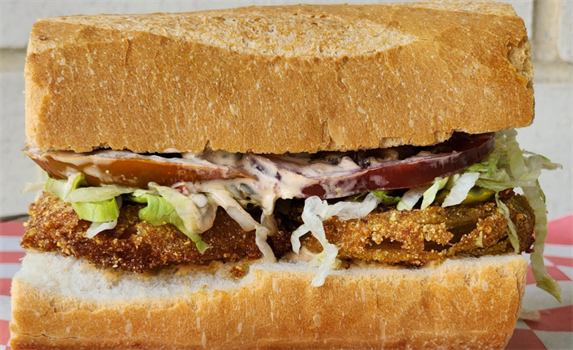 This week, we're celebrating the start of peak tomato season with a New Orleans classic, the po' boy. We're featuring a recipe from Billy Zureikat: the Tom Boy. His recipe uses tomatoes from Iron Creek Farm in three different ways: fried green tomatoes, seasoned heirloom tomatoes, and a sun-dried tomato remoulade.
Ingredients
1 French roll cut to 4-5"
2 green tomatoes
2 heirloom tomatoes
1 cup all purpose flour
1/2 cup fine cornmeal
1/2 cup medium grind cornmeal
1/2 cup plain breadcrumbs
1 cup buttermilk
2 eggs
Shredded iceberg lettuce
Dill pickles
1 cup mayo
2 tbsp whole grain mustard
2 tbsp diced cornichons or dill pickle relish
2 tbsp chopped capers
1 tsp old bay seasoning
1 tsp cajun seasoning
1 tbsp lemon juice
1 clove grated garlic
1 tbsp sun dried tomato paste
1 tbsp roughly diced sun dried tomatoes
1 tsp Louisiana hot sauce
Salt and pepper
Neutral frying oil of your choice
Directions
Sun-dried tomato remoulade:
Mix together mayo, whole grain mustard, cornichons, capers, diced sun dried tomatoes and paste, old bay, cajun seasoning, hot sauce, garlic, and lemon juice. Season with salt and pepper to taste.
Fried green tomatoes:
Slice tomatoes into 1/2" slices and season with salt. Let sit for 10-15 minutes.
Set up a three-step breading station. In the first bowl, mix all purpose flour with 1 tsp of old bay, 1 tsp of cajun seasoning, and a pinch of salt. In the second bowl, mix buttermilk with two eggs and a couple dashes of hot sauce. In the third bowl, mix both grinds of cornmeal and breadcrumbs.
Pat your green tomatoes dry and dip them in the flour mixture, followed by the buttermilk and egg mixture, and then into the cornmeal and bread crumbs mixture. Repeat with remaining tomatoes.
In a large cast iron skillet, heat oil to 350-375F and fry for 2-3 minutes per side or until golden brown and crisp. Remove from oil and rest on a wire rack and season with salt.
Build:
Cut french bread in half and spread remoulade on each half. Top with fried green tomatoes, pickles, shredded lettuce, and heirloom tomatoes (season with salt and pepper) and top with other half