Posted May 04, 2023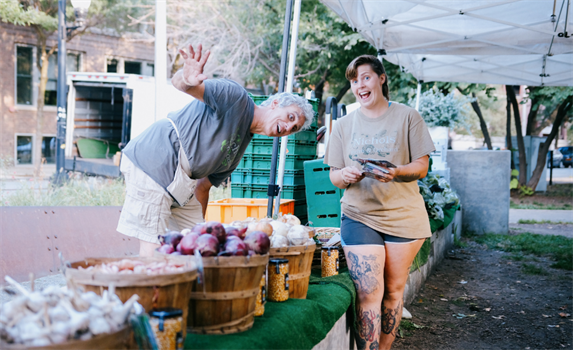 With the season back in full swing, we are so excited to announce the 2023 West Loop vendors. West Loop shoppers can expect to see many returning vendors like Nichols Farm & Orchard, Jacobson Family Farms, and The Flower Garden.
Additionally, two of our four new vendors, Windy City Mushroom and Treats de Cuisine will be joining us at GCM West Loop.
You'll also find some long time Lincoln Park favorites making their West Loop debut, like Daisies and Tomato Mountain.
Keep reading to meet our 2023 West Loop vendors.
---
Baked Cheese Haus, a specialty and artisanal cheesemaker since 1899, is located in the rolling hills of the Driftless region of southwest Wisconsin. The creamery sources milk from neighboring dairy farms in Lafayette County and handcrafts artisanal cheeses in small batches using sustainable practices.
Baked Cheese Haus is the prepared food venture of Brunkow Cheese and offers Alpine-style raclette scraped off the wheel in the traditional Swiss format. Baked Cheese Haus handcrafts raclette at Brunkow Cheese and cave-ages it to maturity before serving at market. Notable other cheeses are the Avondale Truckle, a cave-aged cloth-wrapped cheddar, Pavé & Tomette, petite washed rinds in the Reblochon style, fresh mozzarella, baked cheese and ten-year aged cheddar.
Bennison's Bakery opened in Evanston, Illinois in 1937. Today, it is owned by the Downer family, represented by three generations: Guy, Jory and Guy II.
Jory, a Certified Master Baker, supervises the baking. Bennison's is one of the few bakeries in the country to employ two bakers with that distinction. You can find croissants, scones, baguettes, and artisanal breads produced by hand with organic ingredients at the Bennison's tent at Green City Market, along with breakfast pastries topped with local, seasonal fruit.
Daisies is a vegetable-driven and pasta-focused restaurant located along Milwaukee Avenue's flourishing corridor. Chef and owner, Joe Frillman, takes a local, seasonal, and sustainable approach to Daisies' menu, on which house-made pasta is the shining star.
Among the focus of his "root-to-fruit" approach, he's minimizing waste and maximizing flavor. Joe tailors the specific produce needs of the restaurant's menu, in part, by collaborating with his brother, Tim, who owns and operates Frillman Farms. The close partnership cultivates an unprecedented farm-to-table dining experience with an ever-evolving menu, featuring regional produce and sustainable, humanely raised farm proteins. He also works in tandem with Chicago's community of long-time farmers, ranchers, gardeners, and artisan producers.
These rich relationships allow Daisies to support the local purveyor landscape and bring fresh, sustainable ingredients into the kitchen. This past year, Joe launched Daisies Market, offering unique imports and fresh local ingredients used in the restaurant's own kitchen, and Sunday Market, a vendor-format weekly occurrence that highlights nearby makers.
Formerly known as Flat & Point, the now Dorothy's Bistro is a neighborhood restaurant focusing on comfort food inspired by the Alps, with a large focus on bread and baked goods.
The goal of Dorothy's Bistro is keeping a focus on the community they serve by working with sustainable farmers and making products from scratch. They have found a home using local and seasonal ingredients to create menus that produce Alpine inspired dishes that have roots in Midwestern cuisine.
Dorothy's Bistro takes pride in producing natural and organic sourdough, bagels, brioche, and pastries that have become the backbone of the restaurant. With a strong belief in progress, they strive to make the best products possible using old world baking techniques, and pushing the envelope of creativity.
Outside of the farmer's markets, Dorothy's Bistro is a dinner spot. Meaning, the next step for Dorothy's Bistro is making their fresh baked goods that they offer at the markets readily available through a storefront that focuses entirely on baked goods.
René and Bruce Gelder are responsible for the family's 56-acre farm, but the whole family focuses on selecting fruit varieties, planting, and harvesting on this fourth- and fifth-generation operation.
René specializes in Integrated Pest Management systems and sustainable practices; Bruce and son Marc keep the equipment running; son Mathew does a lot of the planning with René; daughter Mary (as in Mary's Eggs) works with the hens and does odd jobs that she says her "brothers don't want to do;" Mathew's wife, Christina does photography; René and Mary see to the updates on Facebook, Twitter, and website. Nathan, 3-year-old grandson, helps GG (grandma) all the time.
The family grows asparagus, rhubarb, strawberries, cherries, apricots, blueberries, raspberries (red, black, and golden), blackberries, nectarines, peaches, apples, grapes, pears, and chestnuts — and the newer generations are raising summer and fall vegetables.
Finn's Ranch is a small family farm located in Buchanan Michigan. Sean Finn, his wife Alex, and their sons, Nicholas and Matthew, run the farm on a daily basis. Finn's Ranch originated out of a mission to provide a healthy food choice for their family, but they enjoyed farming so much that they decided to take it to the next level: providing for more family and friends!
The family goes to great lengths to ensure everything is fed a natural diet: their cows, goats, and lambs are 100% grass-fed and grass-finished. The chickens, ducks, and turkeys for eggs and meat are pasture-raised on their certified pastures and supplemented with non-GMO feed. The pigs are also pasture-raised supplemented with a non-GMO feed. The Finn family strives to be 100% self-sufficient, by working toward owning all of the land they farm and raising all of their own crops.
J2K CAPRAIO is a family cheesery located in Walkerton, IN, only 78 miles from Chicago. Their artisan cheese-making operation is accomplished entirely by hand; they raise and milk the goats, handcraft, age, and sell the cheese. The family also purchases organic cow milk from a neighboring family farm to make corresponding cow milk cheese in all your favorite goat varieties!

The Klinedinsts have owned goats for many years, but their dream of an on-farm cheesemaking adventure began in 2008. To become more self-sufficient and use and share the goodness of the goat's natural byproduct, the couple took a leap of faith. It took three years to make the dream a reality and now they have been handcrafting cheese for ten seasons, never looking back. Over the years they have added Indiana's only underground cheese cave where some cheese styles are developed and aged enhancing flavor, texture and terroir (a.k.a. nutritiousness and deliciousness)!
The J2K family consists of Josiah & Jody Klinedinst (J2K) their children Sofia, Joey, Frances, and Nicolas as well as a supporting staff Ryan (Affineur), Shawn (Cheesemaking Apprentice), Lauren (Monger), and Rusty (Cheese Dog) all of whom you will see at the Market and play a critical role in the success of this specialty operation!
"Once you get to know our family, you'll understand our methods, appreciate the effort put forth, and Taste the Experience!" Jody says.
Located just 40 miles from Green City Market, Jacobson Family Farms is a regenerative four-season vegetable, fruit, honey, hemp, microgreen, mushroom, and pasture-raised livestock farm located in unincorporated Antioch Township.
Jacobson Family Farms does not use any synthetic pesticides, herbicides, fungicides, or GMO products; instead they rely on holistic management practices and incorporate beneficial plant, insect, reptile, amphibian, bird and mammal habitat throughout their farm to control insect pressure. They use organic compost to add nutrients, provide soil biology, suppress weeds, and conserve soil moisture.
They are a group of young farmers attempting everyday to push the needle forward with what's possible.
In a dynamic and fast-paced world, Kikwetu Kenya Coffee Company is on a mission to enable, uncover, and foster connections. As a Kenya-born, Chicago-made coffee company, they are excited to add to the diverse tapestry that makes Chicago special by connecting you to the best that Kenya has to offer, starting with exceptional quality, sustainably-sourced coffee.
A portion of the proceeds from every cup or bag of coffee sold goes to support Green City Market's 501c3 nonprofit mission.
Lloyd Nichols and his wife, Doreen, started Nichols Farm and Orchard as a hobby on ten acres in 1977. The couple was able to turn the hobby into a business as the family grew.
Today, the Nichols' sons, Nick, Todd, and Chad, all make their livelihoods from the farm where they grew up. The family specializes in variety: the farm grows more than 1,000 cultivars of fruits and vegetables on 250 acres. Their dozens of varieties of potatoes, tomatoes, apples and other produce have brightened Green City Market since its founding.
pHlour is a family owned and operated retail and wholesale bakery located in the Edgewater neighborhood of Chicago. The father (Surapol Wongkamalasai), son (Robert Wongkamalasai), and daughter (Melissa Wongkamalasai-Monar) trio cover all areas from business to craft. They specialize in artisan breads using blends of local and organic grains. Their natural fermentation process is the key to quality bread and wholesomeness.
River Valley Ranch is the oldest mushroom farm in the Midwest. Bill Rose founded it in 1976 with a sizable goal: he wanted to produce the finest fresh mushrooms for the local market. Son, Eric (pictured), joined the operation in 1977 and learned the art of growing mushrooms commercially from his dad. River Valley Ranch still produces fine fresh mushrooms, and also grows other produce, including twenty varieties of heirloom tomatoes, ten varieties of potatoes, a dozen types of peppers, ten varieties of onions, asparagus, spinach, Winter squash and more. All crops are grown without pesticides or chemicals.
Since 1997, River Valley Kitchens, the farm's licensed processing kitchen, has produced pickled mushrooms, salsa, hot sauces, pasta sauces, frozen, gluten free and vegan tamales and veggie patties, vegan soups. All processed foods are made in small batches and hand packed in the on-farm kitchens. River Valley also operates a farm-to-table café, in Chicago, River Valley Farmers Table. River Valley Ranch is an original member of Green City Market. The farm's motto is "quality, freshness, and lots of love."
Star Farm Chicago is an urban farm and landscaping company established in 2016 in Back of the Yards. They work to increase access of local, organic produce through farmers markets, pop-ups, delivery, and their local foods co-op. On the farm, they create an inclusive space by providing local jobs, vocational training and horticultural therapy to people with disabilities, employment barriers, and engaging women and children recovering from domestic violence.
Bob and Louise Soucie own and operate The Flower Garden. They are passionate about producing stunning seasonal flowers to enhance the lives of their customers using environmental sustainable practices.
Their lovely kaleidoscope of color and textures evolves throughout the season. Spring bursts forth with a base of tulips and peonies. Summer blooms follow with a foundation of lisianthus, tuberoses and dahlias. Autumn announces its time with eucalyptus and lion's paw. Lilies and sunflowers delight the senses throughout the season along with a variety of other ever changing seasonal beauties.
Their family business is located outside of Saint Anne, Illinois, which is about 75 miles south of Chicago. Their gardens are MPS internationally certified to ensure growing practices that incorporate care for the soil, water and air. Their desire is to grow "soul food" that will radiate glory, peace and joy to the homes they enrich.
The Flower Garden is MPS-ECAS certified.
Chris Covelli bought a piece of land and started Tomato Mountain Farm in 1993 with a loan, a deep love for the earth, an obsession with growing plants, and a ton of grit. A certified organic, 10 acre farm known for their tomatoes, peppers, salsas, overwintered spinach and carrots, Tomato Mountain farms year-round and offers a home-delivery CSA. They partner with the very best local, sustainable farmers & artisans to deliver a box of their favorite produce, staples & specialty items, right to your doorstep. You can customize your box, pay as you go, & start, pause or cancel anytime.
Treats de Cuisine is a Chicago-based cat and dog treat company sourcing from their friends at local farms and helping with zero farm waste to deliver sustainable, natural, and healthy tail-wagging treats to their four-legged friends.
They believe in human grade, single-ingredient and all-natural pet treats due to digestive issues, allergies, and to accommodate certain diseases. Treats De Cuisine never adds any seasoning, preservatives or fillers!
All the treats are made in house at their butcher shop & deli which is designed with an open kitchen and production concept located in Wicker Park.
Treats de Cuisine gives back to local Chicago animal rescues through donations, treat donations, adoption events, and hosting "dog day out" of shelter events at their butcher shop & deli.
Windy City Mushroom was founded 3 years ago in 2020. With the start of the pandemic, healthy resources became scarce and mushrooms were out of stock in nearly every grocery store and co-op. Chicago needed a sustainable option for local consumers, thus Windy City Mushroom was born. Located in the Ford City neighborhood of Chicago, Windy City Mushroom prides themselves on growing the best organic premium gourmet mushrooms Chicago has to offer at an affordable price.