Posted Mar 01, 2023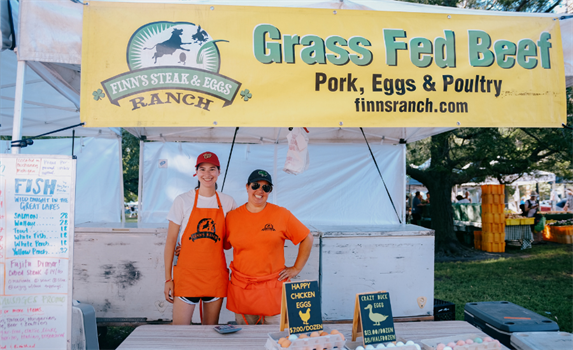 We often say that it's always farmers' market season at Green City Market. Farming doesn't have an off season and neither do we.
At Green City Market, we are on a mission to secure the future of food. One of the main ways we work to do that is by lifting up local, sustainable growers who are committed to the environmental stewardship of land and responsible treatment of animals. In order to support our local, sustainable farmers, we create vibrant marketplaces for our farmers to generate consistent income opportunities.
Did you know that at a traditional grocery store, US farmers only receive around 17 cents of every dollar you spend on food? At a farmers' market, farmers receive 100% of your dollar.
By operating our market year-round, we can ensure that our farmers always have access to a marketplace and are able to generate funds throughout the winter months.
Chris Perez, GCM Programs Manager of Farmer Support, said, "Winter is the slowest time for farms but they still very much need support."
We spoke with Alex Finn, owner of Finn's Ranch – an Animal Welfare and Grass Fed certified farm in Buchanan, MI – about the challenges that local farmers face in the winter months and the best ways to support them.
Speaking directly to the challenges that farmers' face during winter, Alex shared, "During winter time, farmers have to keep their livestock fed, and with no pastures, the source of food is hay and feed. This is a very large expense for farmers while not having the income the summer brings with the farmers' markets."
Alex continued on to explain that even when farmers' prepare for these extra expenses, it can pose challenges as the winter season progresses. "Although funds are set aside for winter expenses, by the time March comes around the winter funds are very low."
Beyond just maintaining their farms, as winter progresses, local farmers need to start preparing for the summer season. Alex explained that this can be a challenge to do when winter income is low and operating costs are increasing in preparation for the summer markets.
Wondering how you can do your part to support farmers directly during these slower months? One effective way is to continue shopping from your favorite local farmers all throughout the winter. Alex Finn shared, "The support of our summer patrons during the winter is much needed."
Alex also said, "Most of the farmers offer online order services and deliveries to the Chicagoland area." This is a great option for folks that can't make it out to our Avondale indoor market location. This is also a great way to supplement your shopping in the weeks that Green City Market is not open throughout the winter. In addition to supporting your farmers, the market is also a great place to nourish yourself throughout the winter months. Chris Perez shared, "Agriculture is seasonal. It is important to go to winter markets to be nourished by the season's offering, root vegetables for example provide wonderful opportunities for roasting and stews, it's the type of food you need to keep warm throughout the season."
Come support your local, sustainable farmers and pick up some nutrient dense winter produce at our next indoor market on Saturday, March 4 from 8 a.m. - 1 p.m. at GCM Avondale. The final winter market will be on March 18 at GCM Avondale.