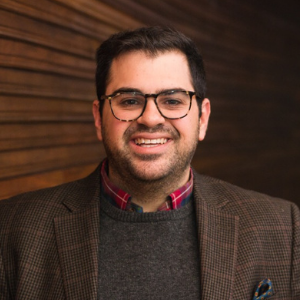 Chris Kritsas
Vice President, Nativ.ly
Bio
Chris is from Wheaton, Illinois and a part of a Greek family who loves to eat. He works in Chicago for a marketing and advertising firm helping start-ups earn revenue. He loves sports, cooking, and eating. When he and his wife lived in San Francisco they took a six-week intensive cooking class that taught them the fundamentals of cooking, helping Chris achieve his dream of being able to go to a farmers market and create a meal from scratch.

He joined the Associate Board in 2018 with a goal to push his community to shop and eat locally and support farmers! He loves food and has a huge heart for the city of Chicago. He thinks it is of the utmost importance to be able to get healthy, seasonal, and sustainable food to everyone in Chicago, not just the people who can afford it.

Chris is welcoming his first baby to his family in June 2021 and moving to Wicker Park. He'll miss living two blocks from GCM Lincoln Park, but plans to still be there as often as ever.