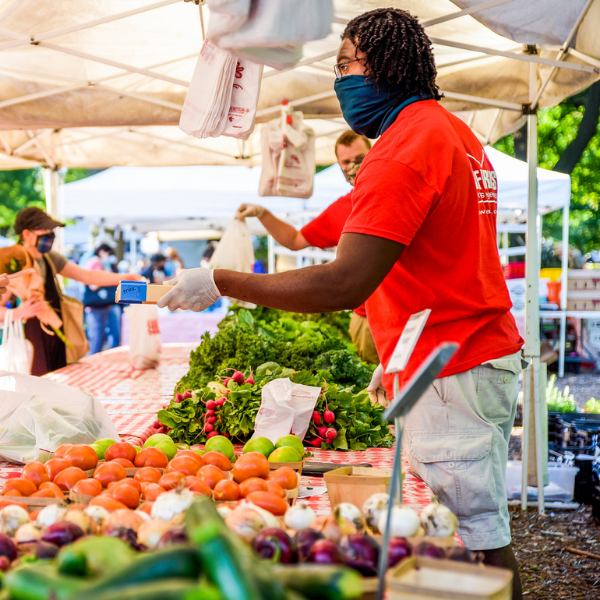 Contact Info
Kayla Biegel
3437 E Sauk Trail
Chicago Heights, IL 60411
708-932-0807
Bio
Carl and Deb Smits started their farm over 30 years ago in 1990 with 30 acres and one small greenhouse. Over the years, with the help of their six children, Kayla, Monica, Rachel, Andrew, Matthew and Titus, and other employees, their love of farming has grown and so has their operation.
Herbs are their specialty at the farmers market, with 30+ fresh cut options and 50+ varieties of herb plants. In addition, they grow vegetables like sweet corn, tomatoes, peppers, beans, broccoli, melons, cucumbers, squash, pumpkins on fields spread over 160 acres. In the spring and summer, Carl and Deb also bring bedding plants, baskets, and mixed planters to market. In the fall, they offer mums, winter squash and potted herbs.
They have never used chemical fertilizers on field crops and rely on sustainable practices such as application of organic matter and compost to grow herbs and vegetables. The Smits believe that healthy crops require healthy soil and that "in order to take from the ground, you have to put back." Their greenhouses and farm stand are just 30 miles south of the market in Chicago Heights, open Monday through Saturday.
Wholesaling
Please email or text to place a wholesale order.
---
Specialties
fresh-cut and potted herbs, fruits, vegetables
---
Participating Markets
Lincoln Park
GCM Delivered
GCM Curbside
---
Certifications
Food Alliance Certified
---
Nutrition Assistance Programs
SFMNP
SNAP
WIC
---