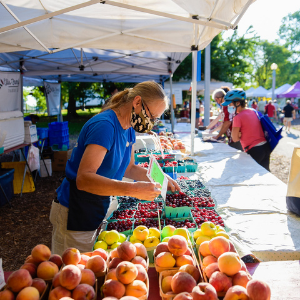 Contact Info
René Gelder
4461 East Britain Avenue
Benton Harbor, MI 49022
269 944-5420
Bio
René and Bruce Gelder are responsible for the family's 56-acre farm, but the whole family focuses on selecting fruit varieties, planting, and harvesting on this fourth- and fifth-generation operation.
René specializes in Integrated Pest Management systems and sustainable practices; Bruce and son Marc keep the equipment running; son Mathew does a lot of the planning with René; daughter Mary (as in Mary's Eggs) works with the hens and does odd jobs that she says her "brothers don't want to do;" Mathew's wife, Christina does photography; René and Mary see to the updates on Facebook, Twitter, and website. Nathan, 3-year-old grandson, helps GG (grandma) all the time.
The family grows asparagus, rhubarb, strawberries, cherries, apricots, blueberries, raspberries (red, black, and golden), blackberries, nectarines, peaches, apples, grapes, pears, and chestnuts — and the newer generations are raising summer and fall vegetables.
WHOLESALING
Please email to place a wholesale order.
---
Specialties
fruit, vegetables, jam, honey, cider, eggs, vinegar
---
Participating Markets
Lincoln Park
West Loop
---
Certifications
Michigan Agriculture Environmental Assurance Program
---
Nutrition Assistance Programs
SFMNP
SNAP
WIC
---