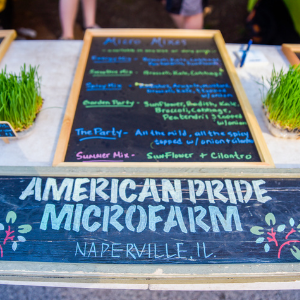 Contact Info
Bradford Hathaway
325 Dean Circle
Bolingbrook, IL 60440
630-857-0299
Bio
American Pride Microfarm is a Certified Naturally Grown backyard farm growing in Bolingbrook, Illinois owned and operated by Bradford Hathaway. Every week at Green City Market, American Pride Microfarm offers a wide variety of beautiful microgreens.
Not familiar with microgreens? Microgreens are 7-14 day old sprouted leafy vegetables —broccoli, kale, onion, and radish just to name a few. These microgreens are grown in all-natural soil with high quality seeds. Everything is grown organically with no pesticides ever! Brad brings live trays to the market and harvests on the spot for ultimate freshness.
Microgreens are super tasty and extremely good for you, with up to 40 times the nutrients of their fully grown counterparts, so you're getting pounds of nutrition with just ounces of microgreens! This makes them perfect in smoothies, on salads and sandwiches, avocado toast, your morning eggs, pizza and flatbreads, or just about any meal you make.
Brad also provides super healthy wheatgrass juice shots all season long, cut fresh and juiced right on the spot. And don't forget about your furry friends! He also grows "petgrass" for your beloved animals (cats and dogs really dig it and it's gooood for them)!
American Pride Microfarm is also Green City Market's on-site knife sharpener. Available all season at GCM Lincoln Park. Bring your favorite knives and get them sharp for your market bounty.
Wholesaling
Please email, text, or call to place a wholesale order.
---
Specialties
fresh-cut microgreens, wheatgrass juice, on-site knife sharpening
---
Participating Markets
Lincoln Park
West Loop
---
Certifications
Certified Naturally Grown
---
Nutrition Assistance Programs
SFMNP
SNAP
WIC
---