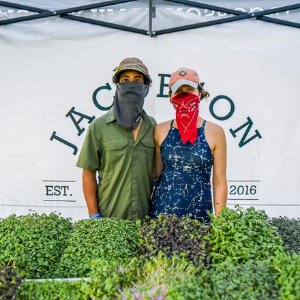 Contact Info
Kyle Jacboson
19943 W Miller Rd
Antioch, IL 60002
312-315-8044
Bio
Located just 40 miles from Green City Market, Jacobson Family Farms is a regenerative four-season vegetable, fruit, honey, hemp, microgreen, mushroom, and pasture-raised livestock farm located in unincorporated Antioch Township.
Jacobson Family Farms does not use any synthetic pesticides, herbicides, fungicides, or GMO products; instead they rely on holistic management practices and incorporate beneficial plant, insect, reptile, amphibian, bird and mammal habitat throughout their farm to control insect pressure. They use organic compost to add nutrients, provide soil biology, suppress weeds, and conserve soil moisture.
They are a group of young farmers attempting everyday to push the needle forward with what's possible.
WHOLESALING
Please email, text, call or visit the website to place a wholesale order.
---
Specialties
vegetables, fruits, honey, hemp, microgreens, mushrooms
---
Participating Markets
Lincoln Park
West Loop
GCM Delivered
GCM Curbside
---
Certifications
Certified Naturally Grown
---
Nutrition Assistance Programs
SNAP
---