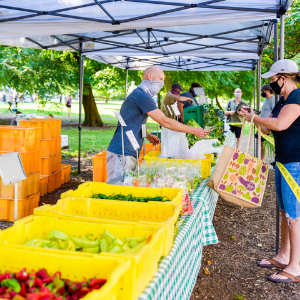 Contact Info
Nick Nichols
2602 Hawthorn Rd
Marengo, IL 60152
815-568-6782
Bio
Lloyd Nichols and his wife, Doreen, started Nichols Farm and Orchard as a hobby on ten acres in 1977. The couple was able to turn the hobby into a business as the family grew.
Today, the Nichols' sons, Nick, Todd, and Chad, all make their livelihoods from the farm where they grew up. The family specializes in variety: the farm grows more than 1,000 cultivars of fruits and vegetables on 250 acres. Their dozens of varieties of potatoes, tomatoes, apples and other produce have brightened Green City Market since its founding.
Wholesaling
Please email us to place a wholesale order.
---
Specialties
vegetables, fruits, herbs, flowers
---
Participating Markets
Lincoln Park
West Loop
---
Certifications
Food Alliance Certified
---
Nutrition Assistance Programs
SFMNP
SNAP
WIC
---